Mirror Carrying
Category: Shadows and Mirrors | Added: June 9, 2009 |

21 comments
Here's a simple illusion achieved with the use of a mirror, this man is carrying the mirror on his shoulder with the reflective side outward thus achieving the illusion that he has no head.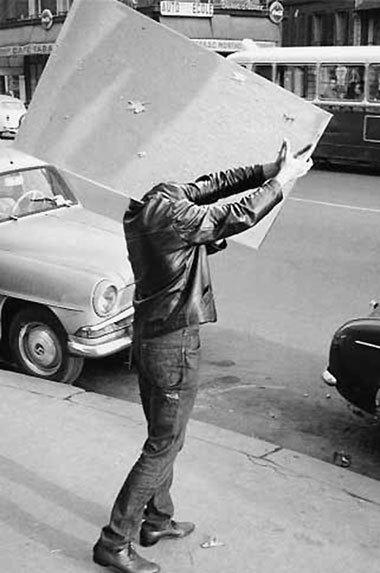 Image Credit: This image is believed to be in the public domain.
Comments ( 21 )
Posted by

tcs

on June 11, 2009
What's interesting is the fact that the mirror is pointing at the pavement so that the reflection only shows his arm and nothing else.
Posted by

stopit

on June 11, 2009
lol...where's his head gone?
Posted by

josh

on August 27, 2009
yeh the head is on the other side he just has one arm and hand on it it i at a slant / so the it only sows the arm and pave meant and some of his jackest calor
Posted by

Kiren Janagal

on December 7, 2009
This is cool
Posted by

Luz

on March 30, 2010
when I saw the guy I thought his head was ripp off but it was the mirrors doing the trick and it was asome and cool
Posted by

michael jackson

on May 4, 2010
boring!!!!!
Posted by

HAS NO HEAD

on June 15, 2010
Wow.he looks like me but i found my head.LOL.no really it looks like a football and sticks like super glue(on my neck. its ok younger peeps i do have a head!
Posted by

he has no head

on July 23, 2010
lol i didnt get it at first then i read up top
Posted by

shannon

on October 31, 2010
and if u look in the mirror there is a shadow but there is no peorson and no shadow on the pavment????oh spooky
Posted by

kdsfj

on November 15, 2010
to shannon. the shadow is him?
Posted by

jake

on March 30, 2011
the shadow is the photographer haha
Posted by

galadrial

on June 21, 2011
i get it i get it the arm is created by the right arms image in the mirror nice job! :) :) :) :)
Posted by

sophie

on June 29, 2011
this is wierd!
Posted by

Helen

on October 10, 2011
AAAH! WTF !
Posted by

charlie

on November 22, 2011
this is so weired!!!!!!!!!!!!!!!!
Posted by

may

on March 18, 2012
this is simple dudes.
Posted by

unknown

on April 21, 2012
uhhhhhhhhhhhhhhhhh
Posted by

cato

on May 30, 2012
How could u not get it it is simple
Posted by

Big one

on August 22, 2012
what a sexxi man no head. well just one>>> this is the big quetin, where head? Ill kiss it if i see it.
Posted by

jocelyn

on September 29, 2012
owwww!!!!!
Posted by

Naomi

on March 23, 2017
Coooool !!!!.,, he is holding the mirror on his right shoulder, and the reflection is his own right arm.