Impossible ring illusion
Category: Impossible Objects | Added: March 11, 2013 |

7 comments
This 3D optical illusion was created by graphic artist Robert Ausbourne. As you can see it is designed to look like a copper ring which has been highlighted on a black background. If you turn the image over in your mind the shape becomes an impossible circle. Focus on the black shading in the center of this image and you will see what I mean.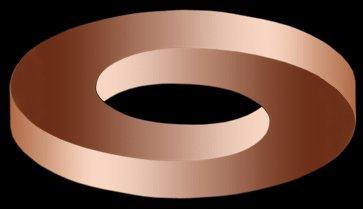 Image Credit: Robert Ausbourne
Comments ( 7 )
Posted by

Cate

on August 1, 2013
Impossible
Posted by

jalen

on August 16, 2013
cool
Posted by

rileyred0327@yahoo.com

on December 7, 2013
ummm
Posted by

???

on December 8, 2013
THIS IS CRAZY!!!
Posted by

the flirter

on June 5, 2014
good but not upto the mark
Posted by

ali

on April 8, 2015
awesome game
Posted by

Penguin

on August 24, 2015
Got it
Add a comment
Your name:
Your comment:
What is the third letter of the word "graphics" ?